Divorce is a painful and emotionally stressful time for everyone. And divorce can be one of the hardest decisions to make in life. So, it's no surprise that with divorce comes a roller-coaster of emotions.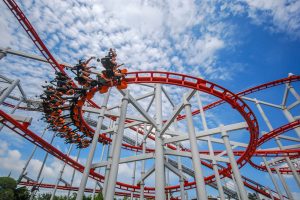 Albeit I am not a trained counselor, my experience as a divorce attorney means I assist people every day who are going through the painful process of ending their marriage. And in my experience people who enter into my office find themselves in various emotional stages.
The following are just a few of the more common emotional stages that you may find yourself in while going through your divorce.
ANGER: You're angry that your spouse has asked you for a divorce, and/or filed for the divorce. And anger is a natural reaction. It's what you do next that matters. If you're struggling with your anger, seek professional help to get you through your divorce.
DISBELIEF: You feel blindsided – you never saw the divorce coming. You thought you and your spouse had a solid marriage. You can't believe your finding yourself faced with your marriage ending. Once again, there is no shame in seeking professional assistance in addressing your feelings.
FEAR: You have no idea what's going to happen next. You worry about where you'll live after the divorce. You wonder if you can afford to be divorced – if you'll be able to support yourself after the divorce. You worry about how your divorce will impact the children. (See blogs "Divorce Fears").
EMBARRASSMENT: It's relatively common for you to feel embarrassed that you're in the midst of the divorce. Your divorce can affect your friendships, your family relationships, your religious associations, and even your relationships with your children.
ACCEPTANCE: After time, you'll accept the divorce and your new life. It's not if you will come to accept your divorce, it's how long your journey takes to find acceptance of your new status in life. Acceptance allows you to move on and realize that your past does not need to define your future.
RENEWAL: Your divorce has been ongoing for months but you see the end in sight. And you are ready to complete your divorce and move on with the next chapter of your life. You find yourself feeling content, and at peace. You're finding your new life and where you fit into it. And you realize you can do it!
HELPING PEOPLE START THE NEXT CHAPTER OF THEIR LIVES GRAND RAPIDS COLLABORATIVE DIVORCE ATTORNEY SERVING KENT, OTTAWA, AND ALLEGAN COUNTY.
At Schmitt Law, PPLC, we understand that filing for divorce can be an emotional and confusing experience. That's why we are committed to providing personalized service to each client we represent and will be with you through this difficult journey. At Schmitt Law, PLLC we encourage clients to take a more collaborative approach to divorce that promotes positive communication and cooperation. Through mediation or the collaborative divorce process, Laurie guides her clients through amicable divorce settlements so they can move forward with their life.  To discuss your circumstances and legal options, contact Schmitt Law, PLLC at (616) 608-4634 to schedule a consultation. Or contact us online to arrange a consultation.