There are many cases in which parties must address the division of their pets. Often times, the parties have agreed as to which party will retain the family pets. And, with the agreement of who will retain the family pets the parties want to enter into a visitation agreement allowing the other party to have visitation rights with the family pets. The parties look to their attorneys to craft a pet visitation agreement, with the terms being defined in the Judgement of Divorce.
IN MICHIGAN, PETS ARE PERSONAL PROPERTY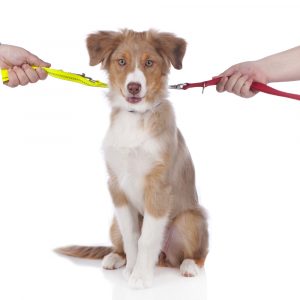 The reality is that in the State of Michigan, pets are considered personal property. As such, the court wants a complete division of all personal property at the time the Judgment of Divorce is entered by the Court.
As two people cannot be awarded the same personal property, the Judgment of Divorce would state that one party is hereby awarded the parties' pet as their sole and separate property free and clear of any claims by the other party.
What this means to parties entering into a pet visitation agreement is that the Court would not uphold language associated with a pet visitation agreement. Therefore, if parties wish to enter into pet visitation agreements, they should do so with the understanding that the terms would not be enforced by the Court.
DRAFTING A FAIR AGREEMENT
At Schmitt Law, PLLC, we understand how difficult it is for divorcing couples to divide pets. With that said, we try to craft an agreement that is fair and equitable for each party. However, we are careful to clearly advise clients that any pet visitation agreement is not binding and enforceable through the court.
We will place language in the Judgment of Divorce that it is the parties' intent to follow the spirit of their agreement. It is the hope that with these statements in the Judgment of Divorce the parties will voluntarily uphold the terms of their agreement.
In summary, until such time as our laws recognize pets as more than personal property, pets remain divisible by the courts as personal property. And no matter how creative the parties and their attorneys could be in drafting a pet visitation agreement, they will likely not be enforced by any court in the State of Michigan.
IF YOU ARE READY TO MOVE FORWARD, CALL SCHMITT LAW, PLLC FOR ASSISTANCE. GRAND RAPIDS COLLABORATIVE DIVORCE ATTORNEY SERVING KENT, OTTAWA, AND ALLEGAN COUNTY.