If you are contemplating divorce, or have recently filed for divorce, you may want to start setting goals to assist you in getting through the divorce process. The following are a few goals for your consideration:
ASSET LIST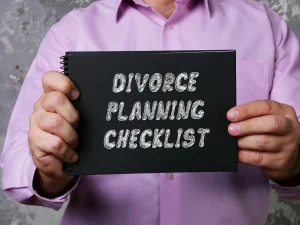 Make a list of all of your assets. Have you and your spouse already decided who will keep what asset? Have you and your spouse agreed to the values on your asset list? Do you need to get appraisals of these assets?
BUDGET
Create a new budget. List your income and your new expenses. If you are unsure what your new expenses will be, do the best you can to use legitimate numbers. This will assist you in knowing what you have to spend and what you may need once the divorce is complete.
EXPENDITURES
Be conservative with your spending while your divorce is pending. It's not smart to create new debt that you will take with you after the divorce. If you or your spouse has already filed for divorce, and you charge up new debt, it's not likely that new debt will be considered marital. What that means is you will be solely responsible for the debt after the divorce. Don't put yourself in a financial hardship position post-divorce by creating new debt.
PROPERTY AND AUTO INSURANCE
Have you and your spouse discussed division of your insurance policies? As you may not know who is retaining the house, or if you and your spouse will sell the house, it may not be time to make any changes to your homeowner's policy. However, it may be time to discuss division of your auto insurance policy and come to agreement of the date that the division will take place.
HEALTH INSURANCE
Once the judgment of divorce is signed by the judge, and you are officially divorced, you will no longer qualify to remain on your spouse's health insurance plan. It is best that you address the health insurance issue early in your divorce, as it may take a few months to find a plan, and for your new health insurance policy to go into effect. Too many clients wait until the last minute to address health insurance. And many find themselves without health insurance post-divorce. Address this issue early, so that you are not uninsured at the end of your divorce.
COBRA INSURANCE
If you are transitioning from your spouse's health insurance policy to your new health insurance policy, you can always pay for COBRA from your previous insurer so that you do not have a lapse in health insurance coverage. You will be able to maintain your previous insurance for 18 months through COBRA. However, as this can be pricey, you want to move as quickly as possible to get your new policy started.
PASSWORDS
As we all do, you most likely have many passwords to several accounts. For your protection, you should change your passwords to accounts that are solely in your name. And this is especially true to your email and social media accounts. You may want to create a new email account used to communicate with your divorce attorney.
CREDIT REPORTS AND CREDIT ACCOUNTS
Request a copy of credit reports from all reporting agencies. That way you are aware of all accounts (sole and joint) that are under your name and can make sure you close all joint accounts before the divorce is completed. If you intend to keep any joint accounts post-divorce, you will need to remove your spouse's name from those accounts. And the same goes for accounts your spouse intends to keep. Make sure your name is removed from all accounts they are keeping.
CONSIDERING DIVORCE? LEARN YOUR OPTIONS WITH SCHMITT LAW, PLLC. GRAND RAPIDS DIVORCE ATTORNEY SERVING THE WEST MICHIGAN AREA.
Contemplating a divorce can be one of the hardest decisions to make in life. There are many complexities involving the divorce process, making it overwhelming for most. However, know that you are not alone, and help is available. At Schmitt Law, PLLC we are here to answer your questions, ease your concerns, and protect your rights. To book a consultation, contact Schmitt Law, PLLC online or by calling (616) 608-4634. Our office is located at 401 Hall Street SW, Suite 112D, Grand Rapids, MI 49503.