WHAT YOU SHOULD KNOW ABOUT SOCIAL MEDIA AND YOUR FAMILY LAW CASE.
So much of our lives seem to be documented publicly on social media. But, if you're going through a divorce or custody battle, you need to think twice about the use of social media platforms.
GOLDEN RULE
It's common sense! If it's in writing, it can and will be used against you in your divorce or custody case. So, ask yourself "Do I want the judge to see this?". "Will this hurt or help my case?"
PROTECT YOURSELF
How do you protect yourself? Simply shut down social media accounts during your divorce or custody case. If you are unwilling to do so, refrain from posting anything – anywhere! Although this advice is not favored by clients, it just makes sense. 
YOUR ACCOUNT IS SET TO PRIVATE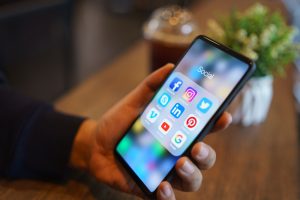 Even if your social media accounts are set to private, you need to be extraordinarily carefully with who you trust. It won't be the first time a "friend" leaks posts to the soon to be ex. And all of the sudden the information you thought you were sharing with "friends" has found its way to the judge.
PRIVATE FACEBOOK GROUPS
But you say you're in a private Facebook group, and that will be ok. If you're in a private Facebook group, these people are strangers to you. There should be no trust. You just never know who will release your private posts, and to whom your posts will be released to. Once again, if it's in writing, it can and will be used against you in your divorce or custody case. And, if it's in writing, it's difficult to impossible to discredit the statement in court. Why?  You put it in writing.
MY ACCOUNT WAS HACKED
And the excuse of "my account was hacked" holds little water to any judge. How much money are you willing to spend for an expert to show that your account was hacked? Remember, judges have heard it all, and this is not an original defense to inappropriate postings found on your account.
YOUR POSTINGS
Remember, posting things about your children can go viral. The judge would certainly frown upon you if you're posting things about your children in an effort to shame the other parent. If you're attempting to, or it appears that you're attempting to disparage the other parent in your posts, the judge will believe you're unable to encourage a close and loving relationship between the children and the other parent. This activity undermines co-parenting, and you may lose joint legal custody.
POSTINGS MADE BY SIGNIFICANT OTHERS
It's true that you're not responsible for controlling your significant other, their actions, or what they say on social media. However, if your new boyfriend/girlfriend are posting things about your divorce, or your children, don't be surprised when you pay the price in court for their actions or statements.
YOUR CHILDREN
Lastly, do you care about your children's feelings? Your children can be ashamed and embarrassed over your posts, so don't' drag your children into your divorce. Even if your children are young, it's possible they will see your posts one day.
CONSIDERING DIVORCE? LEARN YOUR OPTIONS WITH SCHMITT LAW, PLLC. GRAND RAPIDS DIVORCE ATTORNEY SERVING KENT, OTTAWA, AND ALLEGAN COUNTY.
Contemplating a divorce can be one of the hardest decisions to make in life. There are many complexities involving the divorce process, making it overwhelming for most. However, know that you are not alone, and help is available. At Schmitt Law, PLLC we are here to answer your questions, ease your concerns, and protect your rights. To book a consultation, contact Schmitt Law, PLLC online or by calling (616) 608-4634.