If you intend to file for a divorce, and have any type of assets, it is wise to discuss with your attorney how you will protect those assets while the divorce is ongoing.
WHAT IS A MUTUAL RESTRAINING ORDER?
A mutual restraining order is a document prohibiting parties from disposing or hiding the parties' assets. By having the court sign a mutual restraining order, it alleviates the concerns that either party may do so legally. In order to protect client's interests, Schmitt Law, PLLC will seek a mutual restraining order from the court at the onset of the divorce.
WHAT DOES A MUTUAL RESTRAINING ORDER PROTECT?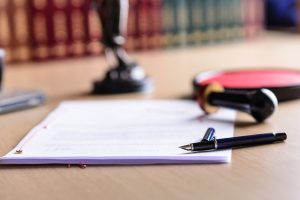 A mutual restraining order will protect anything you require it to protect, and can be drafted to meet the specific needs of the parties. The following are common examples of what a mutual restraining order may protect while the divorce is pending:
Assets and Liabilities: Neither party may conceal, sell, assign, destroy, transfer, mortgage, or otherwise dispose of or encumber any of either party's assets (real or personal, tangible or intangible).
Insurance and Beneficiary Designations: Neither party may cancel, borrow against or invade the cash surrender value, encumber, change the beneficiary designation, prepay insurance premiums outside of the ordinary course, or take any action which would change the status of any policy or plan of life, accident, disability, homeowners, vehicle, or liability insurance or any other insurance policy or plan of any kind or description involving the parties.
Health Insurance: Neither party may cancel, or otherwise change the status of any policy or plan of health insurance, or change coverage or deductibles, covering either party.
Pensions/Retirements: Neither party shall redeem, withdraw funds, encumber, borrow against, change the beneficiary or in any way alter the present status or contributions regarding any pension, retirement, profit sharing, bonus, savings or stock purchase plan or deferred compensation program, of either party.
Credit Card and Equity/Credit Lines: Neither party may cancel credit cards or reduce or increase credit card limits, or obtain new credit cards, or reduce or increase an equity line or line of credit or incur additional debt during this proceeding, except use of credit cards in the ordinary course.
Mail: Neither party may destroy, hide, or divert U.S. Mail or electronic mail directed to either party.
Contracts: Neither party may sign any contract for the purchase of any real or personal property, purchase any annuity or other investment, or incur any debt outside the ordinary course of routine and usual practice of the parties; sign or endorse the other party's name on any check or draft, tax refund or tax return.
WHAT TRANSACTIONS WOULD BE PERMITTED WHILE THE MUTUAL RESTRAINING ORDER IS IN EFFECT?
If a mutual restraining order is entered by the court, it does not preclude payment of bills, nor deposits and withdrawals in checking and savings accounts necessary for the welfare of the household, or other payments to preserve the financial status quo and the property of the parties.
WOULD THE HOUSEHOLD BILLS BE PAID WHILE THE MUTUAL RESTRAINING ORDER IS IN EFFECT?
Both parties would be required to make reasonable and necessary payments to all marital creditors and continue payment of household expenses and utilities and marital liabilities.
WHAT IF WE OWN A BUSINESS?
A mutual restraining order does not preclude either party from operating a business in which they have an interest, or engaging in routine, customary and necessary transactions, practices, and payments associated with the business.
WHAT HAPPENS IF EITHER PARTY VIOLATES THE MUTUAL RESTRAINING ORDER?
The party that violates a mutual restraining order would be held in contempt of court and be subject to imposition of costs, fines, and sanctions; an award of attorney fees; and other remedies allowed by law.
GRAND RAPIDS COLLABORATIVE DIVORCE ATTORNEY SERVING KENT, OTTAWA, AND ALLEGAN COUNTY.
Schmitt Law, PLLC treats each and every client with understanding. We will address any questions and concerns that you may have in order to structure our representation accordingly. Whether you have a simple, uncontested divorce or a complex legal battle that must be litigated, contact Schmitt Law, PLLC today by completing our online contact form, or calling us at (616) 608-4634 to schedule a consultation.