It's very difficult to accept a failing marriage. You wanted your relationship to work. You put your all into it. And you really don't want a divorce. But deep down you realize even with all of your efforts and sacrifices, your relationship is no longer healthy or positive for either of you. And you have accepted that divorce is the best option. But it still feels like your divorce will be the end of the world. But it won't be, and here's why.
FRESH START
You and your spouse worked hard to build your life together – creating a lifestyle that suited your marriage. And now you feel you are losing everything and will need to start again. However, you have a chance at a fresh start: preserve the habits, hobbies, and lifestyle you want. You can keep what suits you, and even look for new and exciting choices such as new hobbies, traveling, or redecorating. And you may feel free to let go of those habits, hobbies and lifestyle that no longer work for you.
HAPPIER YOU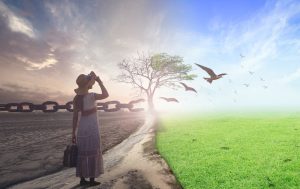 Your life no longer has to focus on the day-to-day challenges you faced while you were married.  You no longer have to find reasons to stay late at the office, and dread going home. You now have total control…and are free to pursue happiness. 

NEW OPPORTUNITIES
Your divorce opens up opportunities for you to make choices that perhaps your spouse was not in favor of during your marriage. It could be as simple as getting a new hairstyle, or a new hair color. Or maybe you've always wanted to work out with a professional trainer, and your spouse thought that idea was stupid. Or maybe you want to eat better. It's your world and you get to create it. This is your time to do all of the things you have always wanted to.
HAPPIER CHILDREN
Your divorce means that your children are no longer subjected to the day-today turbulence your marital home had. That means your children are no longer in the middle of your marital struggles and living in an unhappy home. You and your spouse may now provide your children with two positive and happy homes. 
FOCUS ON YOUR CHILDREN
Your divorce allows you to focus on your children. Perhaps you want to develop stronger relationships with your children.  Now that your focus is no longer on your marriage and/or divorce, you are free to have more meaningful time with your children. You can make your time with your children be everything you want it to be.
IN SUMMARY
Divorce is not the end of the world because it opens new pathways for you to go down. Explore those pathways and let your divorce be the start of your new life, a new beginning, and a fresh start.
HELPING PEOPLE START THE NEXT CHAPTER OF THEIR LIVES
GRAND RAPIDS COLLABORATIVE DIVORCE ATTORNEY SERVING KENT, OTTAWA, AND ALLEGAN COUNTY.
At Schmitt Law, PLLC, we understand that filing for divorce can be an emotional and confusing experience. That's why we are committed to providing personalized service to each client we represent, and will be with you through this difficult journey. At Schmitt Law, PLLC we encourage clients to take a more collaborative approach to divorce that promotes positive communication and cooperation. Through mediation or the collaborative divorce process, Laurie guides her clients through amicable divorce settlements so they can move forward with their life.  To discuss your circumstances and legal options, contact Schmitt Law, PLLC at (616) 608-4634 to schedule a consultation. Or, contact us online to arrange a consultation. Our offices are located at 401 Hall Street SW, Suite 112D, Grand Rapids, MI 49503.