As a family law attorney, clients share their reasons why they are seeking a divorce. Many times, clients have stated there were signs during the marriage that they overlooked or ignored. And by not addressing the underlying issue, it consequently led to their divorce.
Often times, there are red flags in a marriage. These red flags do not necessarily mean your marriage must end. However, they may be warning signs that indicate you are at a considerably greater risk of a divorce. The following are the top divorce risk factors clients have shared with Schmitt Law, PLLC: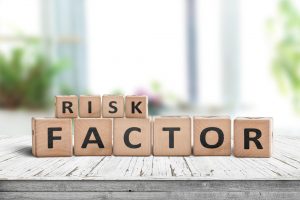 MONEY:   You and your spouse do not agree on how to spend/save money. Parties need to share in financial goals and agree on major expenses.
AFFAIRS:   Infidelity exists in the marriage whether it be emotional or physical affairs.
SEPARATE LIVES:   You and your spouse live separate lives: you have separate friends, you maintain separate finances, you sleep in separate locations in the home, and take separate vacations.
GROWN APART:  You and your spouse have little to nothing in common any longer. You and your spouse have no common interests, and/or do not share in your future dreams and goals.  
LACK OF COMMITMENT:  One party seems to do the "heavy lifting" to the keep the marriage afloat, while the other "coasts" through the relationship. Marriage takes teamwork and commitment.  
EXCESSIVE FIGHTING:   Most conversations with your spouse end up in raising of voices, all out fighting, name calling, and/or emotional abuse.
DOMESTIC VIOLENCE:   Your marriage has been plagued with domestic violence that does not end, and the abuser refuses to seek help to resolve their anger issue. 
VALUES:  You and your spouse no longer share the same values.  
COUNSELING:  You and your spouse have attended marriage counseling, and it has not improved your marriage and homelife. Or one spouse has suggested counseling and the other spouse has dismissed the idea saying they do not need help.
POOR HOME ENVIRONMENT FOR THE CHILDREN:  Through your behaviors, you and your spouse subject your children to an unhealthy living environment with constant fighting and other behaviors, exposing the children to an emotionally or physically unsafe living situation.
ALCOHOL OR DRUG USE:   Your spouse has an issue with alcohol or drugs and refuses to seek help to resolve their issue.
LAURIE SCHMITT – MICHIGAN FAMILY LAW ATTORNEY
Laurie Schmitt is the founder of Schmitt Law, PLLC. Our focus is exclusively family law, offering pre-separation legal advice and assisting clients with family related issues including divorce, custody, parenting time, child support, spousal support, and paternity disputes. To get started today, book a consultation online or by calling Schmitt Law, PLLC at (616) 608-4634.  Whenever you are ready, we are here for you.