You and your spouse have filed for divorce. And you each want to keep the engagement ring and wedding rings. So, who really gets to keep the engagement ring and wedding rings now?
WILL I BE REQUIRED TO RETURN MY ENGAGEMENT AND WEDDING RING?
In Michigan, you must return an engagement ring if you did not get married. Why? Because the engagement ring was as gift conditioned on the marriage taking place. So, if there was no marriage, the ring must be returned.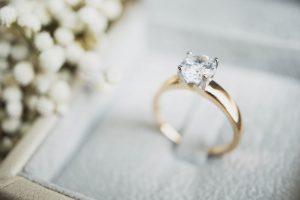 If the marriage took place, the engagement ring and wedding ring are considered gifts, and they do not need to be returned even though you are now getting a divorce.
It does not matter who was at fault for the marriage ending. The engagement ring is a conditional gift, conditioned on the marriage. If there was a marriage, then the condition was met, and you will not be required to return the engagement ring or wedding ring. These rings would not be divided during the divorce and would remain the property of the person who received them.
DOES IT MATTER HOW MUCH THE RINGS COST?
No. It also does not matter how much the engagement ring or wedding ring cost. The same rules apply. The rings remain the property of the person who received them.
WHAT IF WE FINANCED THE ENGAGEMENT RING OR WEDDING RING?
If the engagement ring and/or wedding ring was financed, and a balance remains on that loan, then the loan follows the jewelry. This means that if there is still money owed on either of the rings, and you want to retain them, then you will be responsible for the monies owed on the ring(s). Why? Because of equity and fairness. Of course, you and your spouse can voluntarily agree to any arrangement you wish regarding the debt. However, most judges would say that if you want to retain personal property that is financed, then you retain the responsibility of the loan.
PROTECT WHAT MATTERS
Schmitt Law, PLLC will work hard to negotiate a divorce settlement that equitably divides your assets, with particular attention to the property that means the most to you. We invite you to contact us today by completing our online contact form, or calling us at (616) 608-4634 to schedule a consultation.