Before you hire a family law attorney, you should have a clear understanding how your family law attorney will charge you for the legal service they will provide. Two of the most common ways family law attorneys charge for their work are the hourly rate and the flat rate. These billing methods are discussed below.
THE HOURLY RATE:
An hourly rate fee is one in which the family law attorney charges you for each hour (or portion of an hour) that they work on your case. When retaining a family law attorney under an hourly rate, request a written retainer agreement that specifies what their hourly rate will be, and what legal service will be provided to you. It's also important that the written retainer agreement define if the family law attorney charges for work completed by their legal staff, and what that rate will be.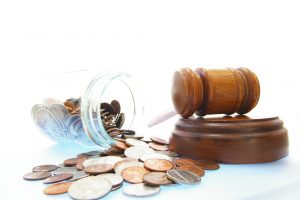 In most cases, the client will pay a retainer at the time they hire the attorney. A retainer is an advance on payment for the family law attorney's services. A client retainer still belongs to the client until it's earned by the attorney or used for legal expenses, and any unused portion must be returned. The amount of a retainer may be a set amount based on the law firm's policies, or it may be determined based on the complexity of the case.
Note, that a more experienced attorney may charge more per hour than one with less experience; however, an experienced lawyer may take less time to do the same legal work. Most skilled family law attorneys will be able to provide the client with an approximate number of hours they anticipate the case to take, after discussing the case with the client and determining the legal course of action necessary.
THE FLAT RATE
A flat rate legal fee is one in which the family law attorney charges a fixed fee for your case. When retaining an attorney under a flat rate agreement, request a written retainer agreement that specifies what their flat rate retainer will include. The written retainer agreement should define if this flat rate includes attendance at hearings. It should also clearly state what takes place if your case does not settle – will the flat rate include representation at trial.
COSTS
Whether you hire a family law attorney on an hourly rate or flat rate basis, the written retainer agreement should address whether you will be responsible for payment of costs in connection with your case. Costs may include service of process charges, filing fees, publication fees associated with alternate service, expert witness fees and expenses, private investigation costs, court and deposition reporter's fees, deposition costs, long-distance telephone charges, messenger and other overnight delivery service fees, electronic database research charges, police reports charges, photocopying and other reproduction expenses, postage, fax expenses, consultants' fees, professional, mediator, arbitrator and/or special master fees and other similar items.
NO SUPRISES
The more detailed your written retainer agreement with the family law attorney, the less likely there will be misunderstandings about what legal service is to be provided and what the cost of that legal service will be.
GRAND RAPIDS COLLABORATIVE DIVORCE ATTORNEY SERVING KENT, OTTAWA, AND ALLEGAN COUNTY.
If you are contemplating or in the process of a divorce or separation, contact the Michigan divorce attorney, Schmitt Law, PLLC. Our office understands that family law matters often involve complex relationships and dynamics that can enhance decision-making stress. We provide clients with the security to approach these challenges with confidence. Our dedicated attorney will provide clients with individualized attention and strategic case preparation to address all parts of their cases. We invite you to contact Schmitt Law, PLLC today by completing our online contact form, or calling us at (616) 608-4634 to schedule a consultation.