Unfortunately, divorce has become more commonplace than it was years ago. As a result of the rise in divorce, couples are looking at their options other than litigation to complete the divorce process. One of the alternate dispute methods is mediation.
What is the benefit of mediation verses litigation?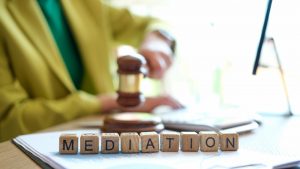 Mediation is a way for divorcing couples to exert total control over the outcome of their case.
Mediation offers divorcing couples a way to civilly discuss and resolve the issues of their case. And all aspects of a divorce can be addressed in mediation such as custody, parenting time, division of marital assets/debts, spousal support, and any other issues that present in a case.
There is a significant risk factor in leaving all the decisions to the judge.  Judges will never understand your situation or the needs of your children more than you and your spouse do. Why leave the outcome of your divorce in the hands of a complete stranger?
Mediation is much more affordable to divorcing couples than litigation. Typically, parties equally share in the cost of the mediator. And mediators are far less expensive than what a trial would be.
Mediation affords the divorcing couple to customize their settlement. 
Mediation is a much quicker way to resolve your divorce case. Often times, attorneys are able to schedule mediation within weeks after the divorce has been filed, verses a trial that may be held 6-8 months from the divorce filing.
Mediation is a non-confrontational process. Parties may select to sit in the same room with the mediator. Or, parties may select to be in individual rooms, with the mediator shuttling back and forth between the parties.
Divorcing couples who settle their case through the mediation process are far more likely to be satisfied with the outcome and follow the provisions in their judgment of divorce without the need for post-divorce litigation. 
GRAND RAPIDS COLLABORATIVE DIVORCE ATTORNEY SERVING KENT, OTTAWA, AND ALLEGAN COUNTY.
We understand that filing for divorce can be an emotional and confusing experience. That's why we are committed to providing personalized service to each client we represent and will be with you through this difficult journey. At Schmitt Law, PLLC we encourage clients to take a more collaborative approach to divorce that promotes positive communication and cooperation.  Through mediation or the collaborative divorce process, Laurie guides her clients through amicable divorce settlements so they can move forward with their life. To discuss your circumstances and legal options, contact Schmitt Law, PLLC at (616) 608-4634 to schedule a consultation. Or, contact us online to arrange a consultation.