MEDIATION – DEFINED
Mediation is a process that allows you and your spouse to resolve conflict in a peaceful manner, outside of court. You and your spouse meet with a neutral third party who is trained in the mediation process (the mediator). The mediator will assist you and your spouse in discussing the outstanding issues, helping both of you review your options, so that you may reach an acceptable outcome of your differences.
KEY FEATURES OF MEDIATION
neutral person (mediator) helps you negotiate
mediator has no power to decide the case
informal
flexible
no obligation to hire an attorney
efficient—less time consuming than litigation
less expensive than litigation
BENEFITS TO PARTICIPATING IN MEDIATION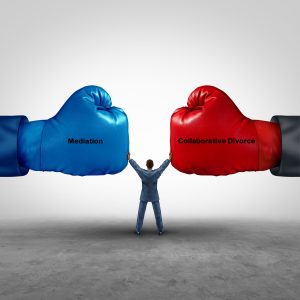 Mediation offers a less stressful option for you and your spouse. In the mediation process you and your spouse maintain total control over the outcome of your case. Once you and your spouse reach an agreement, the mediator will draft a mediation agreement that is binding in court. Therefore, there both you and your spouse are locked into the agreement. And mediation can save you both time and money verses litigating your case.
COLLABORATIVE DIVORCE – DEFINED
In the collaborative divorce process, you and your spouse resolve your issues in a respectful manner, using a team approach. The team assists both of you in crafting solutions in the best interest of each of you, without involving the judge to make a final decision. In the collaborative divorce process, you and your spouse, your respective attorneys and a coach meet in a group setting. An agenda is set for each meeting, to assist the team to stay on track. These meetings are designed to encourage the sharing of ideas and settlement options. The collaborative divorce process requires you and your spouse to commit to work together, and agree to forgo litigation. When you and your spouse share the mindset that you want to control the end result of your divorce, and want to make decisions in the best interest of your children, the collaborative divorce process is a great solution to protracted and expensive litigation.
KEY FEATURES OF COLLABORATIVE DIVORCE
spouses are represented by collaborative attorneys
spouses and attorneys sign a "no court" agreement (attorneys must withdraw if case goes to court)
spouses and attorneys negotiate in "four-way" meetings
attorneys may recommend involving collaborative professionals
informal
flexible
more efficient and cost effective than litigation
BENEFITS TO PARTICIPATING IN A COLLABORATIVE DIVORCE
As in mediation, a collaborative divorce process a less stressful way for you and your spouse. The collaborative process provides flexibility over your divorce and total control over the outcome of your case. The collaborative process is more efficient and cost-effective than litigation. And your confidentiality is protected through the collaborative process.
DIFFERENCES BETWEEN A COLLABORATIVE DIVORCE, MEDIATION AND LITIGATION
The parties agree to the collaborative divorce process, and agree to resolve their    differences without court intervention.
The emphasis is on creating solutions that take into account each of the party's needs and goals, and keeping the attention on the needs of their children.
The parties look to reach a fair and equitable settlement of all of their issues, while maintaining control of the final outcome.
WHICH PROCESS IS BEST FOR YOU?
Which process is right for you? There is no best answer for every case. Which approach to use is determined by the unique circumstances of your case, your individual preferences, and the availability of good mediators or collaborative attorneys.
HELPING PEOPLE START THE NEXT CHAPTER OF THEIR LIVES. GRAND RAPIDS COLLABORATIVE DIVORCE ATTORNEY SERVING KENT, OTTAWA, AND ALLEGAN COUNTY.
At Schmitt Law, PLLC, we understand that filing for divorce can be an emotional and confusing experience. That's why we are committed to providing personalized service to each client we represent, and will be with you through this difficult journey. At Schmitt Law, PLLC we encourage clients to take a more collaborative approach to divorce that promotes positive communication and cooperation. Through mediation or the collaborative divorce process, Laurie guides her clients through amicable divorce settlements so they can move forward with their life. To discuss your circumstances and legal options, contact Schmitt Law, PLLC at (616) 608-4634 to schedule a consultation. Or, contact us online to arrange a consultation. Our office is located at 401 Hall St. Suite 112D, Grand Rapids, MI 49504.