THE ROLE OF THE FAMILY LAW MEDIATOR
Family law mediators are third party neutrals specifically trained to aid couples in reaching resolution in a domestic relations matter (divorce, custody, parenting time). The mediator must remain neutral and treat each party fairly through the process. The mediator does not provide legal advice. But, because most family law mediators are family law attorneys, they are able to educate couples on possible results reached in court verses mediation.
CUSTOMIZED RESULTS
Who wants a cookie cutter resolution of their divorce? Couples who participate in mediation make decisions that are tailored to their needs. With the assistance of the mediator, couples are able to discuss proposals such as the division of family finances, custody, and parenting time and create agreements that addresses their specific needs and circumstances.
NARROWING ISSUES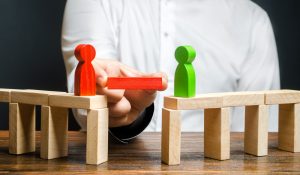 Couples are able to use the mediation process as a way to narrow the outstanding issues to be discussed in court. Even if couples are unable to reach a complete agreement on all of the outstanding issues, they most likely will be able to successfully reach an agreement on some of the issues. When couples are able to narrow the issues that must be resolved by the court, they save time and money.
CONFIDENTIAL PROCESS
Mediation is a private and confidential process. Couples can feel free to talk about whatever issues are important to them that may not be suitable for discussion in court. These issues may involve discussion related to children that the judge would expect parents to work out without court intervention. The issues important to the couple may be discussed in a private, neutral space with the assistance of the mediator.
IMPROVE COMMUNICATION
Mediators aim to help couples communicate better as part of the mediation process. Couples who participate in mediation often find that after reaching a resolution in their divorce, they are able to move forward and build a working relationship with their ex. This allows couples to learn how to effectively co-parent and communicate regarding the children.
FINANCIAL VALUE
Mediation is significantly less expensive than the cost of protracted litigation. Additionally, parties can control their cost at mediation, deciding what issues they want the mediator to assist them with, and how may sessions they want to attend.
A GENTLER DIVORCE. GRAND RAPIDS COLLABORATIVE DIVORCE ATTORNEY SERVING KENT, OTTAWA, AND ALLEGAN COUNTY.
At Schmitt Law, PLLC we encourage clients to take a more collaborative approach to divorce that promotes positive communication and cooperation. Through mediation or the collaborative divorce process, Laurie guides her clients through amicable divorce settlements so they can move forward with their life. Contact Laurie at (616) 608-4634 to schedule a consultation to discuss the collaborative divorce process and how it can benefit you.