Divorce is a difficult enough process to navigate without the added element of an emotionally abusive spouse. What makes an emotionally abusive spouse so difficult to address during a divorce is they know exactly what to say to you to push your buttons. Their behavior is extremely effective as they know what your fears and insecurities are, and use them to their advantage when engaging with their abuse.
So, what can you do?
FIRST STEP
The first step to divorcing an emotionally abusive spouse is to understand what emotional abuse is. Emotional abuse can take on many forms such as financial control, keeping you physically isolated from your family and friends, not allowing you to work outside of the home, giving you the silent treatment, using words with you that are hurtful, critical and demeaning, and threatening to seek full custody of the children if you leave. If you identify what emotional abuse is, you can begin to understand that your spouse's behaviors are not acceptable, and believe that you have the choice to stay or leave your marriage.
NEXT STEP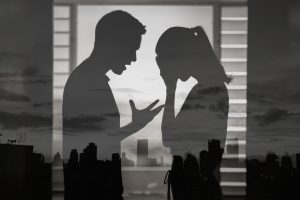 The next step to divorcing an emotionally abusive spouse is to admit to yourself that emotional abuse is taking place in your marriage and decide to take back the control. You need to seek empowerment. How do you take back the control and seek empower for yourself? 
Get your own bank account. By doing so, you are taking back financial control of your money.  
If you are not working, seek employment.  If you earn your own money, it is easier to take back your financial freedom.
Remove yourself from your abusive spouse by moving out of the marital home while the divorce is pending. If this is not a viable option, move to another bedroom in the house.
Seek support through friends, family, a therapist, and/or support group.
Contact a family law attorney in your local area to discuss your legal options.
PREPARE FOR LITIGATION
If you are not already doing so, begin keeping a record of the abuse. When you're a victim of bullying, it's easy to feel helpless and fall into despair. Start logging the abusive behavior by taking note of the date and time, how the abuse occurred, being as detailed as you can. Provide this information to your family law attorney, as there may be options available through the court to set boundaries with your spouse (such as a personal protection order/civil restraining order).
If you take the time to understand how you can handle an abusive partner, you can make the divorce more bearable.
CONSIDERING DIVORCE? LEARN YOUR OPTIONS WITH SCHMITT LAW, PLLC. GRAND RAPIDS DIVORCE ATTORNEY SERVING KENT, OTTAWA, AND ALLEGAN COUNTY.
Contemplating a divorce can be one of the hardest decisions to make in life. There are many complexities involving the divorce process, making it overwhelming for most. However, know that you are not alone, and help is available. At Schmitt Law, PLLC we are here to answer your questions, ease your concerns, and protect your rights. To book a consultation, contact Schmitt Law, PLLC online or by calling (616) 608-4634.