DISCOVERY: WHAT IS IT?
Discovery is part of the pre-trial phase of the case where each party requests documents and information from the other side. This process allows both parties to obtain information necessary to reach a fair and equitable settlement. If a settlement is unsuccessful, the information exchanged will be used at trial.
DISCOVERY: WHAT DOES IT CONSIST OF?
INTERROGATORIES:
Interrogatories are written questions produced to your spouse that must be answered truthfully under oath, under penalty of perjury. Interrogatories can be on a wide range subject matters including finance, standard of living, work history, parenting time, education, the identification of witnesses, exhibits and their position concerning custody and visitation of children.
REQUESTS FOR ADMISSION:
A request for admission is when one party requests the other party to admit or deny the accuracy of a specific statement, and this admission or denial is done under oath. If your spouse fails to respond timely to a Request to Admit, all of the facts set forth in the request will be deemed admitted, and can be used as evidence during the course of litigation.
REQUEST FOR PRODUCTION OF DOCUMENTS: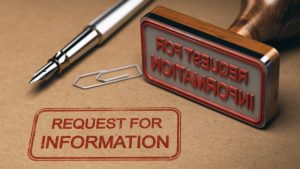 A request for production of documents is a formal request to your spouse to produce specific documents related to your divorce such as paystubs, statements for bank accounts, credit cards, auto loans, and investment and retirement accounts. Additional examples of items requested can be (1) written reports and documents for expert witnesses, (2) written, recorded, or signed statements of any party (including you and your spouse, investigators, friends, family members or employers), (3) photographs, videotapes or audiotapes, emails, surveys or other graphic representations of information, (4) documents received pursuant to a subpoena request from any party, and (5) financial documents (tax returns, paystubs, bank statements, retirement account statements), child-related documents, and social media posts.
DEPOSITIONS:
Depositions are sworn testimony from your spouse or witnesses. This testimony can be used in court to refresh your spouse or a witness if they provide testimony that contradicts statements made in their deposition. Depositions take place in an attorney's office under oath, with a court reporter present recording the testimony. After the deposition is complete, the parties may order a deposition transcript from the court reporter. If distance of a witness is an issue, a video deposition may be taken instead.
IS DISCOVERY REQUIRED IN EVERY DIVORCE CASE?
It is possible to get divorced without going through discovery. If you and your spouse reach a settlement, it may not be necessary to go through the discovery process. However, you do not want to avoid discovery and then find out after you signed an agreement that your spouse failed to disclose assets. Once your agreement has been signed, it's too late.
WHY IS DISCOVERY IMPORTANT TO YOU?
Discovery allows for transparency between you and your spouse. Discovery can provide you with the peace of mind that you have all of the necessary information required to reach a fair and equitable agreement in your divorce case.
GRAND RAPIDS COLLABORATIVE DIVORCE ATTORNEY SERVING KENT, OTTAWA, AND ALLEGAN COUNTY.
Divorce can be emotional and messy, and it's natural for anyone going through a divorce to want to protect their financial interests. Maintaining an objective view of the situation can be difficult when you are struggling with complex emotional issues and personal tensions in your divorce. As an experienced Michigan divorce lawyer, Schmitt Law, PLLC can help you maintain control over your property in divorce, and provide detailed guidance and support throughout every step of the process. The right attorney can increase the likelihood of you securing a favorable outcome to property division in your divorce.
Laurie Schmitt of Schmitt Law, PLLC has years of experience representing clients in a wide range of difficult divorce cases. We understand the financial concerns our clients often have regarding their property ownership rights and the doubts they often experience when it comes to property division in divorce. If you are seeking a divorce, contact us today to schedule a consultation. Contact Schmitt Law, PLLC online or by calling (616) 608-4634 for a consultation today.