Why is it important to you to co-parent? What do you gain from effectively co-parenting with your ex? What's in it for you?
The most important (and obvious) reason to effectively co-parent with your ex is that your children are watching your behavior. They are analyzing how you handle issues with your ex. They learn by your example. And the lack of effective co-parenting takes its toll on your children.
Your children are depending on you and your ex to be their role models. Two adults arguing over trivial issues presents a pitfall spectacle. You and your ex should be aware of the example you are setting and the lessons your children will learn from your constant arguing. And that lesson to your children is that adults should turn minor disagreements into a war.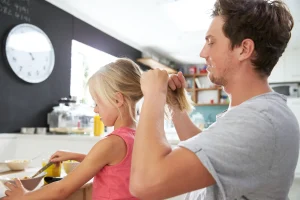 Note that effective co-parenting is for the benefit of the children. When you co-parent with your ex, keep in mind how wise and generous decisions will affect the future and benefit of your children. And the benefits to your children include children that don't feel they are in the middle of your war, and children that have fond memories of their childhood because they are left out of adult wars. As your children should come first and foremost to both you and your ex, co-parenting should be second nature.
It's not easy trying to co-parent with the very person who you divorced. There's so much history, and it may not all be good history. But everything is not about you, your ex, or your divorce. It's no longer about what brought you and your ex to end your marriage. It's about the best interest of your children.
All too often, family law practitioners must educate clients on matters that should seem common sense to parents. Matters such as the importance of co-parenting, and how to effectively co-parent. And it's a shame that people must receive common sense advise from attorneys. Or worse yet, hear it from a judge.
So next time you and your ex disagree on an inconsequential issue, stop and think about what's best for your children. How will getting into a war positively impact your children? And is the outcome that your ex is suggesting good for the children? If so, why start a war. To summarize, be better parents when the occasion calls for it.
GRAND RAPIDS COLLABORATIVE ATTORNEY SERVING KENT, OTTAWA, AND ALLEGAN COUNTY.
At Schmitt Law, PLLC we encourage clients to take a more collaborative approach to divorce and post-divorce matters that promotes positive communication and cooperation. Laurie K. Schmitt, founder of Schmitt Law, PLLC, is an Attorney, Mediator, and Collaborative Divorce lawyer. When possible, she guides her clients through amicable divorce and post-divorce settlements so they can move forward with their life. Our office is located at 401 Hall Street SW, Suite 112D, Grand Rapids, MI 49503. Contact Laurie at (616) 608-4634 to schedule a consultation to discuss the collaborative divorce process and how it can benefit you.