Fighting for custody and parenting time of your children is a hard enough road. But, if you have an ongoing drug or alcohol problem, it makes it a much more difficult to navigate your case.
WHAT DOES A JUDGE LOOK AT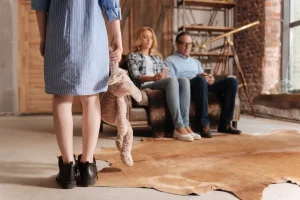 What will your judge look at in determining your custody case if the other parent is alleging you have an alcohol or drug problem? The following are just a few of the things a judge will review before granting you custody and parenting time if the other parent is alleging you have an alcohol or drug issue:
What type of issue are you having: alcohol or drugs?
Does the other parent have clear documentation of your alcohol or drug problem?
If you have a drug problem: what is your drug of choice?
How long have you been battling with your addiction?
Are you currently treating with a counselor?
Are you attending AA or NA meetings?
How often do you attend AA or NA meetings?
Do you have a sponsor?
What will your sponsor say about you if asked to testify?
Have you sought treatment at an alcohol or drug treatment facility?
How long have you been clean/sober?
What proof can you provide of your sobriety?
Can you pass a drug test today and throughout your custody case?
WHAT CAN HAPPEN IN YOUR CASE
What may happen in your custody and parenting time case if the other parent is alleging you have an alcohol or drug problem? The answer is: it depends. However, the following are just a few of the things the judge may require from you if it can be proven you have an ongoing alcohol or drug problem.
You may be subject to supervised parenting time. This could be with a family member, or at an agency. If it is with an agency, you may be solely responsible for the cost.
You may be required to take drug and/or alcohol tests. These drug/alcohol tests may be solely at your cost.
You may be required to purchase a device that tests your sobriety prior to and/or during your parenting time.
You may have your parenting time suspended if you are unable to successfully pass tests, and are unable to remain clean and sober.
If may not be given overnight parenting time.
WHAT YOU NEED TO DO
You need to be prepared to prove your sobriety.
If you are not attending AA or NA meetings, or not attending regularly, you need to attend meetings and do so on a regular basis.
You need to get a sponsor, and build that relationship so that you can maintain your sobriety.
You need to seek appropriate counseling for your alcohol or drug addiction.
Stop lying to yourself and others. You need to stay completely sober. This means you can't substitute one addiction for another and say you are clean and sober. As an example of a common statement client's make: I had an opiate addiction, but now only smoke marijuana or drink alcohol. I am clean and sober. Are you really clean and sober?    
In summary, your sobriety is directly related to the best interest of your child(ren). If you can't or won't maintain your sobriety, it will have a significant impact on what type of custody you are granted, and the amount of parenting time you will get to exercise. Only you can do the work to maintain your sobriety and fight for your rights as a parent.
CHILDREN ARE FIRST. GRAND RAPIDS COLLABORATIVE DIVORCE ATTORNEY SERVING KENT, OTTAWA, AND ALLEGAN COUNTY.
At Schmitt Law, PLLC we understand that the interests of your children always come first. Whatever your situation, Schmitt Law, PLLC is experienced, sympathetic and willing to help you achieve the best outcome for your entire family. Contact Schmitt Law, PLLC today by completing our online contact form, or calling us at (616) 608-4634 to schedule a consultation. Our office is located at 401 Hall Street SW, Suite 112D, Grand Rapids, MI 49503.