You're getting a divorce. You come to Schmitt Law, PLLC for a consultation. The first issue you discuss is parenting time. And the first thing you state is that you want a 50/50 parenting time schedule. The next question to you is what are your hours of employment and what days do you work? You state you work either long hours each day, 7 days a week, varied hours, third shift, or start at 5:00 in the morning.
The best time to find out you have an obstacle to obtaining a 50/50 parenting time schedule is at the start of your divorce. Consider this your transition period. When you are married, you each take on specific roles at the house and with your children. Now that you will be single, you need to be honest with yourself and take a look at the reality of your request for a 50/50 parenting time schedule. Are your hours of employment compatible with exercising a 50/50 parenting time schedule? If not, what do you do now?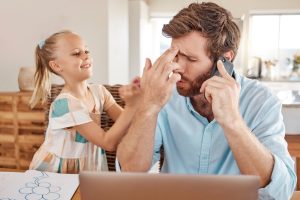 While you are just the beginning of your divorce, now is the time to review if your employment will conflict with your end goal of 50/50 parenting time schedule. If you really want to exercise a 50/50 parenting time schedule, you need to ask yourself what changes you are willing to make to be awarded a 50/50 parenting time schedule. Now is the time to look at your options and see what you can do to accommodate at 50/50 parenting time schedule. Ask yourself:
Will your employer allow you to move to another shift?
Can you make yourself available to get your children to and from school?
Or, what arrangements can you make to ensure your children will get to and from school when you are at work?
Can you move your days around at work to make yourself available to your children?
Should you look for another job?
The biggest question to ask yourself is are you able to be home in the evening to take care of your children – to feed them, do homework with them, and get them ready for bed? If not, it is not likely you will be granted a 50/50 parenting time schedule.
However, you have time to review your options and make adjustments to your employment so that you are able to take care of your children and obtain your goal of the 50/50 parenting time schedule.
CONTACT SCHMITT LAW, PLLC FOR LEGAL ADVICE ON CUSTODY. GRAND RAPIDS FAMILY LAW ATTORNEY SERVING KENT, OTTAWA, AND ALLEGAN COUNTY.
Custody is a sensitive topic in divorce cases. Child custody mediation will put your child first and set you up for a healthy co-parenting relationship. With an experienced attorney and mediator like Laurie Schmitt, you will be able to navigate your new family dynamic with clear understanding and communication. Looking for a professional and experienced family law attorney, contact us online or give us a call at (616) 608-4634. Our office is located at 401 Hall Street SW, Suite 112D, Grand Rapids, MI 49503. At Schmitt Law, PLLC our commitment is to you!