MOVING
You may be concerned about having to move. You're concerned about how much it will cost you to move, such as moving expenses, security deposits, and perhaps having to purchase furniture and appliances. During the pendency of the divorce, these are issues that can be approached one at a time. And note, that just because a divorce has been filed doesn't mean that you will be required to move out of the marital home immediately. So, there will be time to address when you will move out and how you will pay for your move.
As you and your spouse come to an agreement regarding the house, assets, and debts, you can discuss making funds available for the cost of moving out – where the money will come from and what time frame the money will be available. That way, when you are ready to make the move, you have the appropriate funds to do so.
LOSS OF SHARED TRADITIONS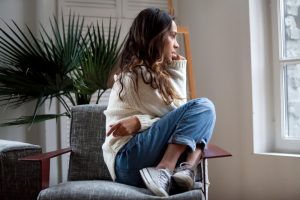 You shared so much in your marriage – so many family and holiday traditions. Your divorce brings a new reality that you have lost someone that you thought was your best friend – your partner in life. And your divorce may mean you lose connection with members of your spouse's family.
It's true that divorce can mean a significant change in family and holiday traditions. You may even find you want to make changes to your family and holiday traditions because it's just too painful to continue the old traditions you shared when you were married. But divorce now allows you the freedom to decide what traditions are important to you and allows you to create new traditions with your family and friends – traditions you can call your own.
PERSONAL FAILURE
Marriages fail for numerous reasons. And no one enters into a marriage contemplating divorce. So, does divorce equal failure? Not at all. The time you spent in your marriage can hardly be looked at as a failure as you loved each other and may have raised a family together.
Whether it was your decision or not, divorce can make us challenge our values. You may feel you let yourself or your family down. You struggle with your own sense of guilt. You think you are not worthy to move forward and seek happiness. You need to say to yourself that the relationship failed, but that doesn't make you a failure.
Divorce shouldn't be looked at as a failure, but as a chance to reinvent yourself. Adopt the belief that what's behind you doesn't' define you or your future, and that you should never live life on a pass-fail basis. You didn't fail, you tried. And hopefully you gave your marriage your all, and then had the courage to let each other go. That's hardly a failure.
GRAND RAPIDS COLLABORATIVE DIVORCE ATTORNEY SERVING KENT, OTTAWA, AND ALLEGAN COUNTY.
At Schmitt Law, PLLC, we are here for you each step of the way in your divorce. From planning your first steps, to approaching your separation, to helping you understand your rights, to signing the final documents. We can help you navigate the separation and divorce process. To get started today, book a consultation online or by calling Schmitt Law, PLLC at (616) 608-4634. Whenever you are ready, we are here for you. Our office is located at: 401 Hall St. Suite 112D, Grand Rapids, MI 49504