WHAT IS MARITAL DEBT?
Marital debt is defined as any debt incurred during the marriage (before the date of separation). If you are still living together, then we look at the filing date of the divorce. As a general rule, both spouses will be responsible for one half of the debt incurred during the marriage, no matter who spent the money, and no matter how the money was spent.
HOW DO WE DIVIDE DEBT?
Now that you and your spouse have agreed to seek a divorce, it is imperative that each of you understand what debt you have accumulated, and how it will be divided.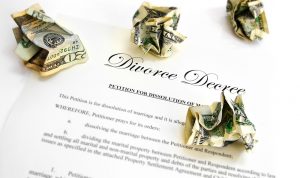 It makes sense that you and your spouse talk about your debt and make decisions on who will retain what debts. You should discuss if and how you will refinance any debt that the other spouse is legally responsible for. And, you should agree to close joint credit cards and lines of credit now, agreeing that no further joint debt will be incurred. Inevitably you will need to stop using joint credit cards, and incurring joint debt. So, the sooner you divide your finances, the better.
WHAT HAPPENS IF WE ARE UNABLE TO COME TO AN AGREEMENT?
If your spouse refuses to work with you to develop a post-divorce financial plan, then your next step is to know what debt you have. If you have little or no information about your debt, you will need to educate yourself on the financial aspects of your marriage.
First, order your credit reports. This will show you what debt you have under your name. It may not be all inclusive of the marital debt. But it is a start in getting the full picture of your debt. Second, write down all of the debts you know. Write down the names of creditors, current balances, account numbers, and note who is legally responsible for each debt. This will assist your attorney and the court in understanding what debt you have, and what the balances were at the time of separation or time of filing the divorce.
In the event that you and your spouse cannot come to an agreement privately, or through mediation, the judge will be the decider of the division of debt.
WHO WILL BE RESPONSIBLE FOR THE DEBT AFTER THE DIVORCE?
Assuming all of your debt is marital, it will be divided equally between you and your spouse.
PROTECT YOURSELF!
Cancel all joint credit cards now! You may bear the responsibility of these debts after your divorce. By cancelling joint credit cards, you are protecting yourself from future responsibility of new debt.
DISCLAIMER
The determination of what may be marital debt in any specific divorce case, and how it will be divided can be complex. This blog discusses only the basic premise that the debt you and your spouse have is marital and will be divided equally. However, laws surrounding divorce and division of debt can be complex.
GRAND RAPIDS COLLABORATIVE DIVORCE ATTORNEY SERVING KENT, OTTAWA, AND ALLEGAN COUNTY.
Divorce can be emotional and messy, and it's natural for anyone going through a divorce to want to protect their financial interests. Maintaining an objective view of the situation can be difficult when you are struggling with complex emotional issues and personal tensions in your divorce. As an experienced Michigan divorce lawyer, Schmitt Law, PLLC can help you maintain control over your property in divorce, and against taking on responsibility of debt that may not be marital. We will provide detailed guidance and support throughout every step of the process. The right attorney can increase the likelihood of you securing a favorable outcome to property and debt division in your divorce.
Laurie Schmitt of Schmitt Law, PLLC has years of experience representing clients in a wide range of difficult divorce cases. We understand the financial concerns our clients often have regarding their property ownership rights and the doubts they often experience when it comes to property division in divorce. If you are seeking a divorce, contact us today to schedule a consultation. Contact Schmitt Law, PLLC online or by calling (616) 608-4634 for a consultation today.