What is mediation? Mediation is where a third-party neutral assists parties in reaching a fair and reasonable resolution. But what are the benefits of mediating when you can just go to court and get everything you want? What do I stand to lose by litigating?
Before you think you can just go to court and get everything you want, you should think twice. Will I really get everything I want, and does it make sense to spend valuable assets to fight verses engage in the mediation process.
The following are the top three reasons you should mediate your divorce:
1. COST
Simply put…divorcing cost money.  Attorneys are expensive.  And parties who want to fight should anticipate spending $300-$500 an hour for a qualified family law attorney. Translation…be prepared to spend thousands of dollars if you intend to fight.
2. THERE ARE NO WINNERS IN A DIVORCE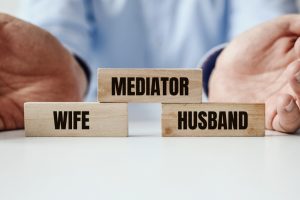 As stated above, the divorce process can be costly.  And now that you're getting a divorce, you are leaving your marriage with one-half of what you had. Do you want to continue depleting your share of the marital estate on attorney's fees? Most people believe the only way to get what they want or deserve it to "fight (litigate in court). However, good family law attorneys are skilled negotiators.  And mediation is the perfect platform for your attorney to use those negotiation skills to get you what you want, without the need of a trial.
3. THE LAW IS THE LAW
All divorcing parties have their opinion of what the outcome of their case should look like.  However, the law may not support that opinion. To broadly summarize family law: decisions involving children are decided based off the best interest of the children and marital property is divided equally between the parties. After a lengthy and costly battle, you will walk away having spent money to receive what you could have obtained in mediation.  And a successful agreement at mediation will be without the financial and emotional loss you would have sustained through the trial process. 
To conclude, judges encourage and/or require parties to participate in mediation before they will provide you with a trial date. And, a good mediator will be able to assist you and your spouse in obtaining either a full or partial agreement. You can walk out of mediation with a fair outcome of your case, without going to all ends destroying your pocketbook and the other side through litigation.
COLLABORATIVE DIVORCE – THE LITIGATION ALTERNATIVE
GRAND RAPIDS COLLABORATIVE DIVORCE ATTORNEY SERVING KENT, OTTAWA, AND ALLEGAN COUNTY.
Divorce is a stressful and difficult process. That's why more couples are turning to the collaborative divorce process. A highly trained team of professionals work together with you to develop a fair, open and child centered resolution. If you want to avoid going to court, reach your own agreement, and promote positive co-parenting post-divorce, the collaborative divorce process may be an alternative for you.
Laurie K. Schmitt, founder of Schmitt Law, PLLC, is an Attorney, Mediator, and Collaborative Divorce lawyer. When possible, she guides her clients through amicable divorce settlements so they can move forward with their life.  Contact Laurie online or by calling (616) 608-4634 to schedule a consultation to discuss the collaborative divorce process and how it can benefit you.