There is no road map or perfect way to tell your spouse you want a divorce. And it's never an easy conversation to have. However, the following is general advice for how to best approach this type of conversation.
YOU ARE AT THE STARTING LINE
You are already at the starting line. You have decided to get a divorce. You may have consulted with an attorney. You may even be ready to file the divorce. However, your spouse may not be in the same emotional place as you are. This news may come as a shock to your spouse. Therefore, be respectful of their emotions. Just remember, it may take time for your spouse to meet you at the starting line.
LOCATION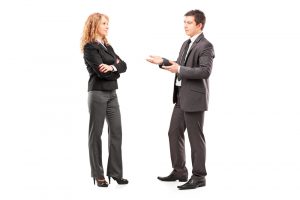 Think carefully about where you will have this conversation with your spouse. Select a time and place that you can have this difficult conversation, in private. If you decide to have this conversation at your home, make sure the children are not present. They do not need to overhear this adult only conversation. And do not select a time and place where others may interrupt. This is a sensitive conversation to have and should be given the due respect it deserves.
MAKE A PLAN
Before you sit down with your spouse, think about what you want to say. Think about what you really need to say. Perhaps these may be two very different things. And the rule of keeping it simple applies. This is not a marriage counseling session. This is not a time to get angry, upset, and emotional. There is no need to rehash your entire relationship, nor disparage your spouse. As emotions may be running high during this conversation, keep it respectful, simple, calm, and to the point.
BE HONEST
Have enough respect for the marriage, and the time you have spent with your spouse to answer their questions honestly. If you have retained an attorney, tell them so. If you intend to file the divorce immediately, or have already done so, tell your spouse. If they will be served soon, inform them so that they are not blindsided with service. Also note that you do not have to have all of the answers right now. As this is your first divorce as well, you may not know what happens next. Just be honest with them, and tell them that it is one step at a time.
DOMESTIC VIOLENCE
If you have suffered domestic violence in your marriage, you should consult with your attorney about how to safely inform your spouse you want a divorce.
How you approach this conversation may have a big impact on how your divorce moves forward. You know your spouse best. If you want to have an amicable divorce, then the tone of this conversation should reflect that desire. 
GRAND RAPIDS COLLABORATIVE DIVORCE ATTORNEY SERVING KENT, OTTAWA, AND ALLEGAN COUNTY.
We understand that filing for divorce can be an emotional and confusing experience.  That's why we are committed to providing personalized service to each client we represent, and will be with you through this difficult journey. At Schmitt Law, PLLC we encourage clients to take a more collaborative approach to divorce that promotes positive communication and cooperation. Through mediation or the collaborative divorce process, Laurie guides her clients through amicable divorce settlements so they can move forward with their life. To discuss your circumstances and legal options, contact Schmitt Law, PLLC at (616) 608-4634 to schedule a consultation.  Or, contact us online to arrange a consultation.