In getting your divorce settled, it can be a long and expensive process. However, there is an alternative – Mediation. So, what is a mediator, what makes it better than litigation, how does it work, and will the mediator be our attorney?
WHAT IS A MEDIATOR?
A mediator is a third-party neutral that helps you and your spouse reach an agreement on your divorce issues. 
WHAT MAKES MEDIATION BETTER THAN COURT? 
A successful mediation is one in which you and your spouse reach an agreement on the issues in your case. Reaching an agreement in mediation saves you and your spouse time and expense of litigation. 
HOW DOES MEDIATION WORK?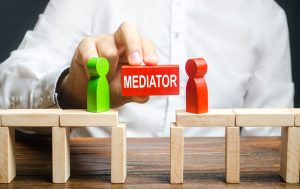 In a typical mediation, the parties and their attorneys are present, and the mediator works with both parties and their respective attorneys to reach an agreement. Once the parties have come to an agreement, the mediator will draft a mediation agreement. Once drafted, you and your spouse will sign the mediation agreement, and the mediation agreement now becomes a binding contract that can be upheld in court.
IS A MEDIATOR AN ATTORNEY AS WELL? 
Yes, a mediator may be an attorney.  However, you and your spouse should not confuse the mediator's role in your divorce.  The mediator's is to help you and your spouse settle your divorce case. But a mediator may not be used as a shared attorney for you and your spouse.  
WHAT IS A MEDIATOR ALLOWED TO DO?
A mediator may:
Assist you and your spouse with collaboration and negotiations to help you reach an agreement
Identify you and your spouse's needs and interests
Assist you and your spouse to communicate in a productive way
Remains neutral with both parties
WHAT IS A MEDIATOR PROHIBITED FROM DOING?
A mediator, even if licensed as an attorney, may not:
Function as a "shared" attorney for you and your spouse
Must not represent either you or your spouse in your divorce
Provide you or your spouse with legal advice
Comment on the fairness of the agreement
Advise either you or your spouse if you could get more in court
Must not favor one party over the other
Cannot complete your Judgement of Divorce, child support order, or qualified domestic relations orders
GET HELP FINALIZING YOUR DIVORCE. GRAND RAPIDS DIVORCE ATTORNEY SERVING KENT, OTTAWA, AND ALLEGAN COUNTY.
Divorce in Michigan is a complicated procedure with long-term implications. It's important to understand your rights and duties at each stage of the proceeding so that you will be in the best position to move forward during and after the divorce. Advice from an experienced divorce attorney can make all the difference in your outcome.
At Schmitt Law, PLLC, we work to ensure that our clients have the information and guidance they need to make the right decisions for their family and their future. Contact Schmitt Law, PLLC today by completing our online contact form, or calling us at (616) 608-4634 to schedule a consultation.