WHAT IS AN APOLOGY?
Merriam-Webster defines an apology as "an admission of error or discourtesy accompanied by an expression of regret".
HOW DOES AN APOLOGY FIT IN A DIVORCE?
But, how does an apology play a role when couples are divorcing, and what is the value in offering an apology to your spouse? An apology can re-establish dignity to your spouse, letting them know you have made mistakes that have hurt them. 
There are times when clients seem to get "stuck" …they just can't seem to move forward. It's clear they are unable to reach an agreement and resolve their divorce until their anger issues are addressed.
What has caused the anger in their marriage can be many things such as their spouse having an emotional and/or physical affair – causing feelings of betrayal. Or, perhaps they feel taken advantage – that they never felt appreciated in the marriage. Often, it's these feelings that prevent them from "concluding" the marriage, and reaching a final agreement.
IT MUST BE A SINCERE APOLOGY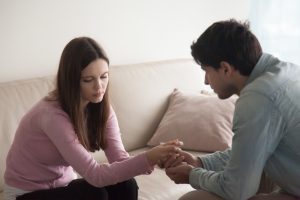 A true apology from their spouse can free them from their anger, resentment, or frustration, allowing them to move forward and end their marriage with dignity. So, an apology can play a large role in keeping the divorce process on track. And the value is the same …that is allows the divorce to move forward to a conclusion.
But the apology must be a "true apology", one that recognizes you have done something wrong and expresses your regret for the act. If the wronged spouse believes there is an expression of regret or remorse, the apology can be accepted, and the case can move to the next step: agreement. Remember, an effective apology can hep heal, while an ineffective apology can cause more pain.
If you intend to apologize to your spouse, you need to fully own the behavior you are apologizing for. And your apology needs to be sincere. You need to effectively acknowledge that you are actually sorry for something you have done for your apology to be accepted. An effective apology must validate the other's pain.
BEFORE YOU APOLOGIZE, TALK TO YOUR ATTORNEY
Note, if you intend to offer an apology to your spouse while in the midst of a divorce, you should talk to your attorney before any apology is offered. The specifics of your apology can harm your divorce case in that any admissions of wrongdoing to your spouse may find its way into a divorce trial. So, offering an apology can be tricky, and should be carefully considered and discussed with you attorney before doing so.
GRAND RAPIDS COLLABORATIVE DIVORCE ATTORNEY SERVING KENT, OTTAWA, AND ALLEGAN COUNTY.
We understand that filing for divorce can be an emotional and confusing experience. That's why we are committed to providing personalized service to each client we represent and will be with you through this difficult journey. At Schmitt Law, PLLC we encourage clients to take a more collaborative approach to divorce that promotes positive communication and cooperation. Through mediation or the collaborative divorce process, Laurie guides her clients through amicable divorce settlements so they can move forward with their life. To discuss your circumstances and legal options, contact Schmitt Law, PLLC at (616) 608-4634 to schedule a consultation. Or, contact us online to arrange a consultation.