1. WHAT WILL THE TOTAL COST OF ATTORNEY'S FEES BE IN MY DIVORCE CASE?
There is no one size fits all answer for this question. The total cost of attorney's fees for your divorce will depend on many factors such as who you retain as your divorce attorney, their hourly rate, the complexity of the issues in your divorce, are you able to reach an agreement before or at mediation, will your case require discovery, and will your case require a trial. 
2. HOW LONG WILL MY DIVORCE CASE TAKE TO COMPLETE?
Michigan law establishes statutory waiting periods depending on the individual circumstances.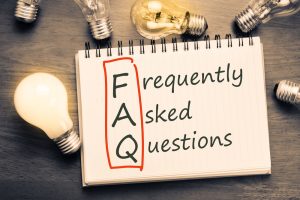 If you do not have minor children of the marriage: There is a two-month waiting period after the filing of the Verified Complaint for Divorce has been filed.
If you have minor children of the marriage: There is a six-month waiting period after the after the filing of the Verified Complaint for Divorce has been filed.
A Judgment of Divorce cannot be entered earlier than these established times.
3. IS PARTICIPATION IN THE MEDIATION PROCESS MANDATORY IN A DIVORCE?
In many counties in Michigan the judge will require attendance at mediation before he/she will schedule a trial.
4. WHAT IF WE HAVE AN AGREEMENT BEFORE FILING THE DIVORCE?
Then we would file your complaint for divorce and draft a judgment of divorce incorporating the terms of your agreement. A final hearing can be set in your case (to be held after the statutory waiting period has passed). 
5. ARE WE ALLOWED TO USE ONE OF OUR ATTORNEYS AS A MEDIATOR?
Even if one of your attorneys is a domestic relations mediator, an attorney cannot represent one party in a divorce and assume the role as the mediator. Why? It is imperative that mediators be a neutral third party (meaning they do not know either party in the divorce action).
6. IS IT MANDATORY THAT BOTH MY SPOUSE AND I RETAIN OUR OWN ATTORNEY IN OUR DIVORCE ACTION?
No. There is no legal requirement that parties to a divorce be represented by an attorney.  Even if one party has retained an attorney, the other party is not required to be represented and may represent themselves in court.
A GENTLER DIVORCE. GRAND RAPIDS COLLABORATIVE DIVORCE ATTORNEY SERVING KENT, OTTAWA, AND ALLEGAN COUNTY.
At Schmitt Law, PLLC we encourage clients to take a more collaborative approach to divorce that promotes positive communication and cooperation. Laurie K. Schmitt, founder of Schmitt Law, PLLC, is an Attorney, Mediator, and Collaborative Divorce lawyer. When possible, she guides her clients through amicable divorce settlements so they can move forward with their life. Contact Laurie at (616) 608-4634 to schedule a consultation to discuss the collaborative divorce process and how it can benefit you.