It's hard enough to make the life changing decision to end your marriage. And its daunting to think about the tough decisions ahead. But right now, all you can think about is how are the bills going to be paid while we are going through our divorce. 
Many couples continue living together after one spouse has filed for divorce. Often, parties are unable to make future housing decisions until a final agreement has been reached determining the division of assets and debts. Therefore, couples must decide how to handle the payment of household expenses while the divorce is pending. If parties can resolve this issue outside of court, it can alleviate some of the stress for parties who already are in a tense situation.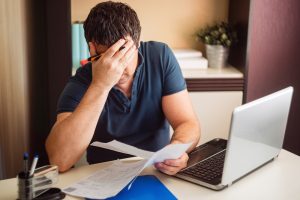 If the parties cannot resolve the issue of payment of household expenses between themselves, either party may file a motion with the court to determine division and payment of the household expenses. If the judge is required to make a decision, in most cases judges expect parties maintain status quo of the household expenses. This means whatever the normal practice was during the divorce, is what it should be through the pendency of the divorce. The parties need to continue to contribute to the household expenses the same proportion as they did before the filing of the divorce.  
If the parties separate after the filing of the divorce, the goal is to prevent foreclosure of homes, utilities being turned off, repossession of vehicles, and failure to pay credit cards. If a party makes the decision to move out prior to completion of the divorce, it does not absolve them from their financial responsibility to contribute to the household expenses. 
The goal while going through your divorce is to maintain status quo. Therefore, if you or your spouse have filed for divorce, know what your financial obligations will be before making the decision to move out of the marital home. Albeit living together after the filing of the divorce may be uncomfortable, it may be financially necessary to do so. Seek legal assistance before making this major decision.
DEBT DIVISION.  GRAND RAPIDS COLLABORATIVE DIVORCE ATTORNEY SERVING KENT, OTTAWA, AND ALLEGAN COUNTY.
Divorce can be emotional and messy, and it's natural for anyone going through a divorce to want to protect their financial interests. Maintaining an objective view of the situation can be difficult when you are struggling with complex emotional issues and personal tensions in your divorce. As an experienced Michigan divorce lawyer, Schmitt Law, PLLC can help you maintain control over your property in divorce, and against taking on responsibility of debt that may not be marital.  We will provide detailed guidance and support throughout every step of the process. The right attorney can increase the likelihood of you securing a favorable outcome to property and debt division in your divorce.
Laurie Schmitt of Schmitt Law, PLLC has years of experience representing clients in a wide range of difficult divorce cases. We understand the financial concerns our clients often have regarding their property ownership rights and the doubts they often experience when it comes to property division in divorce. If you are seeking a divorce, contact us today to schedule a consultation. Contact Schmitt Law, PLLC online or by calling (616) 608-4634 for a consultation today.