At Schmitt Law, PLLC, I hear these phrases daily: My spouse won't sign for the divorce papers or my spouse won't sign the judgment of divorce. These are classics, and are common concerns expressed by many clients. Don't fear. You can proceed with your divorce even if your spouse will "not sign the papers"!
CAN I FILE FOR A DIVORCE IF MY SPOUSE WON'T COOPERATE?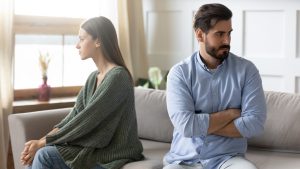 Yes, you can seek a divorce with or without your spouse's permission or participation. You have the right to file for divorce in a court that has jurisdiction over your marriage. Your spouse may be telling you that they will not cooperate and therefore you can't get a divorce. But, your spouse's lack of consent or cooperation will delay your divorce, but not prevent it. A contentious divorce may take longer than when parties cooperate. But your divorce will be granted.
DOES MY SPOUSE NEED TO SIGN FOR THE COMPLAINT FOR DIVORCE?
NO, your spouse will not be required to sign anything when they are served with a complaint for divorce. Once your complaint for divorce is filed with the court, then it must be served on your spouse. This can be done several ways. However, if your spouse is uncooperative from the beginning, the best way to ensure appropriate service is through a process server. The process server need only hand the documents to your spouse. Your spouse does not need to sign for service, nor sign that they have accepted any of the divorce documents.
DO I NEED MY SPOUSE'S SIGNATURE ON ANYTHING TO GET A DIVORCE?
No, you don't need your spouse's consent to obtain divorce! If you want to end your marriage, your spouse's refusal to cooperate will not prevent you from getting your divorce. If you're worried you will be unable to move forward with your divorce because your spouse will not cooperate, let me ease your mind.
WHAT HAPPENS IF MY SPOUSE FAILS TO RESPOND TO THE COMPLAINT FOR DIVORCE?
Once the complaint for divorce has been served on your spouse, your spouse 21 days to file an answer with the court. If your spouse fails to file an answer in time, a Default can be entered with the court. The process is as follows:
After the time for responding has passed without an answer, a Notice of Default is filed and signed by the Clerk of Court
A copy of the notice of default is mailed to your spouse
A hearing will be set wherein you request to enter a default judgment
You would set a hearing date and send notice to your spouse (including a proposed judgment of divorce).
At the hearing, the judge will review the paperwork you've filed, will ask you some questions, and will ultimately issue a ruling on your divorce.
WHAT HAPPENS IF MY SPOUSE WON'T SIGN THE JUDGMENT OF DIVORCE?
If your spouse won't sign the judgment of divorce or fails to respond to your complaint for divorce, you can request the court to enter a default judgment of divorce against your spouse.
IN SUMMARY
Your spouse may be saying a lot of things now that you are presenting them with the possibility of a divorce. If you are confused or concerned about what your spouse may be saying about your right or ability to file for divorce and have your divorce granted, contact Schmitt Law, PLLC to discuss your options and rights.
PROVIDING SOLUTIONS FOR FAMILIES.
GRAND RAPIDS COLLABORATIVE DIVORCE ATTORNEY SERVING KENT, OTTAWA, AND ALLEGAN COUNTY.
At Schmitt Law, PLLC, we understand that filing for divorce can be an emotional and confusing experience. That's why we are committed to providing personalized service to each client we represent and will be with you through this difficult journey. At Schmitt Law, PLLC we encourage clients to take a more collaborative approach to divorce that promotes positive communication and cooperation. Through mediation or the collaborative divorce process, Laurie guides her clients through amicable divorce settlements so they can move forward with their life.  Our office is located at 401 Hall Street SW, Suite 112D, Grand Rapids, MI 49503. To discuss your circumstances and legal options, contact Schmitt Law, PLLC at (616) 608-4634 to schedule a consultation. Or contact us online to arrange a consultation.