Potential clients come into the office seeking legal advice regarding a divorce. At times, I hear that maybe it's best they wait until their children are grown before they divorce. These parents justify their position to wait and stay married until the children are grown for many reasons, as follows:
They can avoid the custody battle that they are sure will take place
They will be able to provide the children a more stable environment if they stay married
They will not have to uproot the children from the only home they have ever known
They will not have to relocate the children to a new school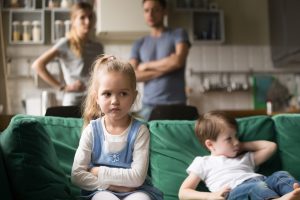 It's admirable to put your children's needs first when it comes to a divorce. However, are you making the right decision when you decide to stay in an unhappy or dysfunctional marriage until your children are grown? The truth is that while divorce does impact your children, it's how you and your spouse handle yourselves during the divorce that matters. How well your children get through the changes depends on how well you help them through the process. What can you do to help your children through your divorce:
You can eliminate the conflict with your ex (at least while in the presence of your children)
To the best of your ability, keep your children's schedules and routines the same as it was while you were married
Make sure that the children know you and your spouse love them and that they were not the reason for your divorce
Promote with your children that it is alright to love both you and your ex.
Address your anger and frustration with the divorce and your ex. Your children learn from your actions, and parrot back your behaviors.
There never is a perfect time to divorce. However, if you stay in your marriage, are you and your spouse able to provide the children with an emotionally safe and stable environment? Or, do you and your spouse argue, fight, or worse yet engage in the silent treatment with each other – all in ear shot of the children? When you are trying to decide to divorce verses stay married, you need to look at all of the circumstances and weigh the good against the bad.
How your children handle your divorce depends on how well you and your spouse work together towards a positive outcome in your divorce. What you decide to do will depend on your specific circumstances. Children are resilient. And perhaps what's best is to provide them with two happy homes verses one filled with anxiety.
GRAND RAPIDS COLLABORATIVE DIVORCE ATTORNEY SERVING KENT, OTTAWA, AND ALLEGAN COUNTY.
We understand that filing for divorce can be an emotional and confusing experience. That's why we are committed to providing personalized service to each client we represent and will be with you through this difficult journey. At Schmitt Law, PLLC we encourage clients to take a more collaborative approach to divorce that promotes positive communication and cooperation. Through mediation or the collaborative divorce process, Laurie guides her clients through amicable divorce settlements so they can move forward with their life. To discuss your circumstances and legal options, contact Schmitt Law, PLLC at (616) 608-4634 to schedule a consultation. Or contact us online to arrange a consultation.