So many issues in divorce or custody cases are simply brought on by the unwillingness of parents to get along for the sake of their children. And yes, I said "their", as children have, want, and need two parents.
So, what can you do to make your situation better with the other parent?  Four common-sense rules, if followed, would go a long way to making your relationship bearable or even better with the other parent: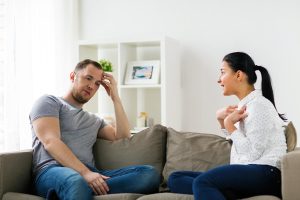 Watch your tone when you speak to the other parent, as they may read into your tone a meaning that just wasn't there. You both know each other better than most people, and can push each other's buttons.  So, try to keep your conversation respectful in tone and nature.
Don't argue or have adult conversations in the presence of the children. Arguing and adult conversations between the two of you should take place privately, as children do not need to be placed between their parents.
Don't discuss any ongoing court case with the children. When children know about pending litigation, it only stresses them out about their future.
Don't shoot yourself in the foot. Don't let the other parent lure you into making derogatory statements to them that can, and most likely will, be used against you in court. The golden rule: if you have nothing nice to say, say nothing at all.
When dealing with the other parent, keep your focus on your children and their emotional needs. This is no longer about you, your anger, or your resentment for the other parent. This is about what your children need…two parents who can show them they are still loved by both parents, and that it is ok for them to love both of you. It's not hard to be the positive role model your children need.
CHILDREN ARE FIRST. GRAND RAPIDS COLLABORATIVE DIVORCE ATTORNEY SERVING KENT, OTTAWA, AND ALLEGAN COUNTY.
At Schmitt Law, PLLC we understand that the interests of your children always come first. Whatever your situation, Schmitt Law, PLLC is experienced, sympathetic and willing to help you achieve the best outcome for your entire family. Contact Schmitt Law, PLLC today by completing our online contact form, or calling us at (616) 608-4634 to schedule a consultation.