Michigan is a no-fault state, which means that you do not need to provide a reason for seeking a divorce. You will not be required to show any wrongdoing on your spouse's part to have a divorce granted.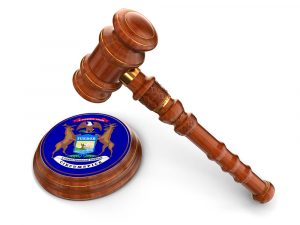 In order to obtain a divorce in Michigan, you must declare in your complaint for divorce and testify at your final hearing that you had been a resident of the State of Michigan for 180 days before filing, that you had been a resident of the county in which you filed for 10 days before filing, and that there are "irreconcilable differences". Irreconcilable differences means that there has been a breakdown of the marriage relationship so that the objects of matrimony have been destroyed and there is no likelihood the marriage can be preserved. This must be true at the time of filing and at the time of the final hearing.
To conclude, the only statutory requirement in the State of Michigan to be granted a divorce is that there has been a breakdown in your marriage, and you do not believe your marriage can be preserved.  The judge will not ask you details as to what the actual breakdown was. You will just need to state that a breakdown in the marriage exists, and they will grant your request for a divorce.
GRAND RAPIDS COLLABORATIVE DIVORCE ATTORNEY SERVING KENT, OTTAWA, AND ALLEGAN COUNTY.
Divorce can be emotional and messy, and it's natural for anyone going through a divorce to want to protect their financial interests. Maintaining an objective view of the situation can be difficult when you are struggling with complex emotional issues and personal tensions in your divorce. As an experienced Michigan divorce lawyer, Schmitt Law, PLLC can help you maintain control over your property in divorce, and against taking on responsibility of debt that may not be marital. We will provide detailed guidance and support throughout every step of the process. The right attorney can increase the likelihood of you securing a favorable outcome to property and debt division in your divorce.
Laurie Schmitt of Schmitt Law, PLLC has years of experience representing clients in a wide range of difficult divorce cases. We understand the financial concerns our clients often have regarding their property ownership rights and the doubts they often experience when it comes to property division in divorce. If you are seeking a divorce, contact us today to schedule a consultation. Contact Schmitt Law, PLLC online or by calling (616) 608-4634 for a consultation today.