ELIGIBILITY
One party must reside in Michigan for:

6 months if there are minor children of the marriage
2 months if there are no children of the marriage

One party must testify under oath that there has been a breakdown of the marriage relationship to the extent that the objects of matrimony have been destroyed and there remains no reasonable likelihood that the marriage can be preserved.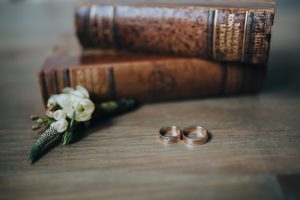 FILING
The Complaint for Divorce must be filed in the county in which one party has resided for 10 days or more.
SERVICE
The Defendant is served with the Complaint for Divorce and Summons
RESPONDING
The Defendant must answer the Complaint for Divorce within 21 days after in-person service (or 28 days if served by mail).
TEMPORARY ORDERS
By Motion from either party, the Court may grant temporary orders on custody, parenting time, child support, and financial issues such as payment of debt and spousal support.
FINANCIAL DISCLOSURES
Each party must complete and serve on the other party (or their attorney) a Domestic Relations Verified Financial Information Form and supporting financial documents.
DISCOVERY
The process in which attorneys start to gather all financial information regarding all assets and liabilities of the marital estate.
NEGOTIATION
Attorneys/parties negotiate and discuss settlement informally
MEDIATION
Mediation is required for all divorce cases
Attorneys/parties negotiate and discuss settlement with the assistance of a mediator (third party neutral).
The parties and their respective attorneys may agree to mediate at any point during the divorce process. But mediation must be completed before attendance at the Settlement Conference, and before a trial will be scheduled.
SCHEDULING CONFERENCE
The Court will set a scheduling conference to inquire as to the status of the case.
A scheduling Conference Order will be entered setting deadlines for the discovery process, appraisals, and mediation.
SETTLEMENT CONFERENCE
Court schedules a Settlement Conference wherein the parties and their respective attorneys must appear to inform the Court as to what issues remain in dispute.
If there are issues that remain in dispute, the Court will set a trial date.
PRO CONFESSO HEARING
If the parties are able to reach an agreement, a pro confesso hearing (final hearing) will be held and a Consent Judgment of Divorce will be entered.
TRIAL
If the parties are unable to reach a full agreement on the terms of their divorce, a trial will be held in front of the judge, testimony will be taken, and the judge will make a final ruling on the matter.
HELPING PEOPLE START THE NEXT CHAPTER OF THEIR LIVES
GRAND RAPIDS COLLABORATIVE DIVORCE ATTORNEY SERVING KENT, OTTAWA, AND ALLEGAN COUNTY.
At Schmitt Law, PLLC, we understand that filing for divorce can be an emotional and confusing experience. That's why we are committed to providing personalized service to each client we represent and will be with you through this difficult journey. At Schmitt Law, PLLC we encourage clients to take a more collaborative approach to divorce that promotes positive communication and cooperation. Through mediation or the collaborative divorce process, Laurie guides her clients through amicable divorce settlements so they can move forward with their life. 
To discuss your circumstances and legal options, contact Schmitt Law, PLLC at (616) 608-4634 to schedule a consultation. Or contact us online to arrange a consultation.
Our office is located at 401 Hall Street SW, Suite 112D, Grand Rapids, MI 49503.