HOURLY RATE FEES
In family law, the hourly fee method is the most common response you will receive from law firms when discussing payment methods. In most cases it is hard for a family law attorney to determine exactly how complex your case will be and therefore how long it will take to complete. Therefore, it is a risk accepting family law cases on a flat rate basis.
FLAT RATE FEE
A flat rate is simple…one fee for the entire case. Newer firms may have less expensive flat rate fees. But the newer firms have less experience. Older firms will have more experience. But their fees may cost more.
THE PROS AND CONS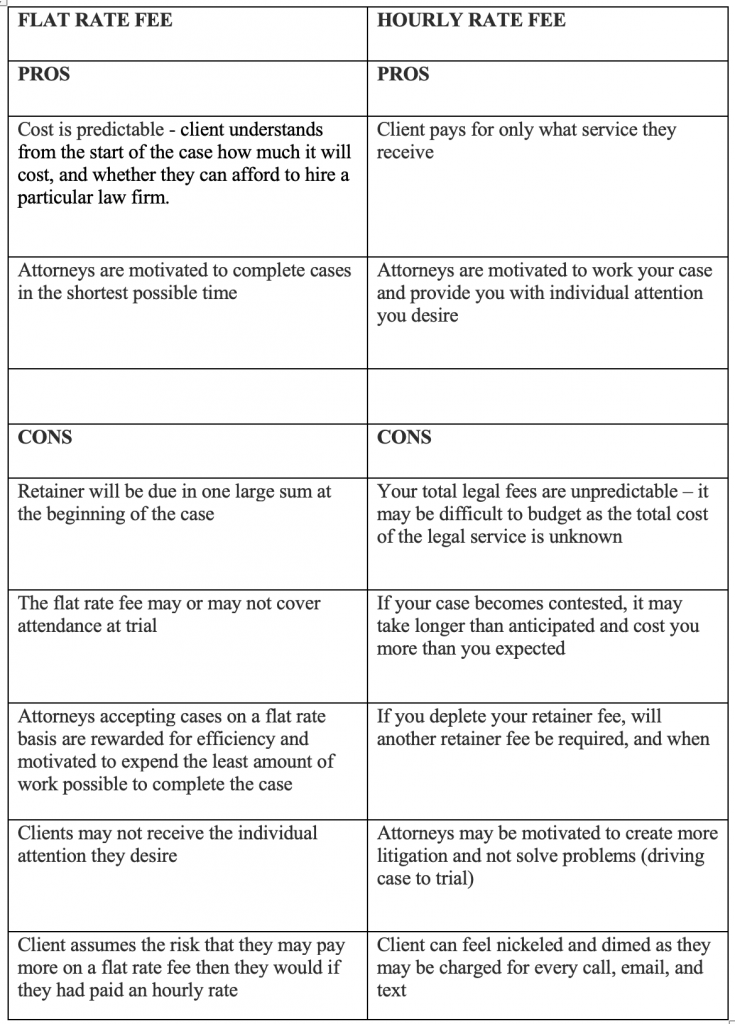 In summary, both hourly rate and flat rate fee structures have positive and negative aspects for the client. These differences must be considered carefully before retaining a family law attorney.
AN ATTORNEY WHO UNDERSTANDS YOUR CIRCUMSTANCES. GRAND RAPIDS COLLABORATIVE DIVORCE ATTORNEY SERVING KENT, OTTAWA, AND ALLEGAN COUNTY.
At Schmitt Law, PLLC, our clients benefit from years of experience. We treat every client as an individual, taking the time to understand your unique situation, so as to best advise you on the steps you should take. Whatever stage your life is at, you can trust Schmitt Law, PLLC to guide you through the legal process with expertise and compassion, because we understand that family comes first. Contact Schmitt Law, PLLC today by completing our online contact form, or calling us at (616) 608-4634 to schedule a consultation.