Divorce can be an overwhelming and confusing process. As most people have never been through the divorce process, they often don't know where to begin. And mistakes made through the divorce process can have long lasting effects. 
1. FAILURE TO OBTAIN A MUTUAL RESTRAINING ORDER
A mutual restraining order is a document prohibiting parties from disposing or hiding the parties' assets. By having the court sign a mutual restraining order, it alleviates the concerns that either party may do so legally. If you have assets to protect, you need to request a mutual restraining order at the start of your case
2. FAILURE TO OBTAIN AN ORDER ADDRESSING PAYMENT OF EXISTING DEBTS
If you have existing marital debts, and cannot agree on how they should be paid through the divorce process, you need to request an order from the court outlining how these debts will be paid. The last thing you need is to leave your marriage with your credit destroyed because marital bills were not being paid or being paid on time through your divorce.
3. DISCUSSING THE DIVORCE WITH THE CHILDREN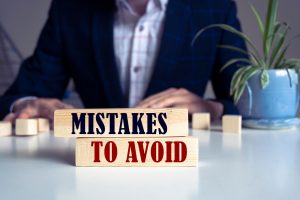 Children don't have the emotional maturity to be burdened with adult information about your divorce. They may be struggling through your divorce process and shouldn't have to deal with adult issues. The children need to know that it's alright for them to love each of you, without having to take sides.
4. TAKING LEGAL ADVICE FROM FAMILY AND FRIENDS
Friends and family mean well. Your friends and family may have been through a divorce, and can share their war stories with you. However, the domestic relations law is ever changing. And because all family law cases are unique, you may not necessarily receive the same outcome your friend or family member received. Get your legal advice from an experienced family law attorney.   
5. GOING THROUGH THE PROCESS ON YOUR OWN
Heading into a divorce without complete knowledge of the process can be risky. At the very least, obtain legal advice from an attorney before you get started so that you fully understand your option, expectations, rights, and responsibilities. At Schmitt Law, PLLC, we offer coaching and/or limited scope representation to assist you through the divorce process.
6. ONLY MY "FRIENDS" CAN SEE MY SOCIAL MEDIA POSTS BECAUSE IT IS SET TO PRIVATE
Don't fool yourself. When there is a battle over the children, it's not uncommon for your "friends" to provide the other parent with information, text, and pictures from your social media accounts. And yes, these comments, text, and pictures can and will be used against you in court. 
GRAND RAPIDS COLLABORATIVE DIVORCE ATTORNEY SERVING KENT, OTTAWA, AND ALLEGAN COUNTY.
We understand that filing for divorce can be an emotional and confusing experience. That's why we are committed to providing personalized service to each client we represent and will be with you through this difficult journey. At Schmitt Law, PLLC we encourage clients to take a more collaborative approach to divorce that promotes positive communication and cooperation. Through mediation or the collaborative divorce process, Laurie guides her clients through amicable divorce settlements so they can move forward with their life. To discuss your circumstances and legal options, contact Schmitt Law, PLLC at (616) 608-4634 to schedule a consultation. Or contact us online to arrange a consultation.