Can preserving a relationship with your former spouse even be accomplished? Yes, it can, and successfully.
Why is it important to preserve a relationship with your former spouse? So that you can raise emotionally healthy children.
How do I go about preserving a relationship with someone I divorced? After all, we are divorced for a reason. The following are common sense ideas on how and why you should preserve your relationship with your former spouse: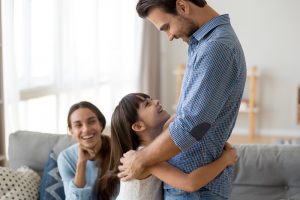 Would you really speak to someone at your dentist's office the way you speak to your former spouse? Act as if you are interacting with someone in a business relationship – be cordial and polite. I didn't say it's required to respect your former spouse. But you can interact with them in an appropriate way.
Don't let your former spouse push your buttons, nor should you push theirs. It's true that there is no better person to know how to get us angry in a second. However, it will serve no greater good in the long run to engage in negative back-and-forth behavior. It's time to move from the past and make a paradigm shift…that we need to be good people to raise good children.
Be a good role model for your children…yes, they are watching and listening to both of you.
Why must everything a battle? Learn to compromise.
Don't let significant others or spouses get in the way of maintaining a positive relationship with your former spouse. It will benefit your current relationship if you reduce the friction with your former spouse. Who wants to go on date night and listen to you spend the entire evening complaining about your former spouse.
Yes, there will be different rules and lifestyles at your former spouse's home then you may have at your home. Accept that you do not have control or influence on how your former spouse lives, nor how they raise the children during their parenting time.
Try and respect the decisions your former spouse makes regarding the children during their parenting time. If it benefits the children, then support the decision.
To summarize, if you maintain a civil relationship with your former spouse, the children will be the winners. It's important to look into the future and know that children grow up and become adults. If you create a healthy relationship with your former spouse now while the children are young, there is a greater likelihood that your children will want both of you at their extracurricular events, their high school graduation, their college graduation, and their wedding.
GRAND RAPIDS COLLABORATIVE DIVORCE ATTORNEY SERVING KENT, OTTAWA, AND ALLEGAN COUNTY.
We understand that filing for divorce can be an emotional and confusing experience. That's why we are committed to providing personalized service to each client we represent, and will be with you through this difficult journey. At Schmitt Law, PLLC we encourage clients to take a more collaborative approach to divorce that promotes positive communication and cooperation. Through mediation or the collaborative divorce process, Laurie guides her clients through amicable divorce settlements so they can move forward with their life. To discuss your circumstances and legal options, contact Schmitt Law, PLLC at (616) 608-4634 to schedule a consultation. Or contact us online to arrange a consultation.